Team Ico Lore: The Colossi

The main goal of Shadow of the Colossus is to seek out and kill the sixteen colossi (巨像 Kyozō) in the Forbidden Lands. The colossi are imposing creatures made of stone and dark fur resembling grass. Surprisingly, not all of them are huge in size, but all of them require some thinking to find (and especially to exploit) their magic sigils.
When Wander is killed while fighting a colossus, a game over screen appears, featuring the head of the colossus he was fighting.
Note that both the given names and the Latin names of the colossi are fictional. They are only used by fans due to the popularity of these names and are not official.
Colossus
(number and name)
Latin Name
Agro *
Time Attack goals
(Normal Mode / Hard Mode)
1
Valus
Minotaurus colossus
No
2:30 / 2:50
2
Quadratus
Taurus magnus
Yes
4:00 / 4:30
3
Gaius
Terrestris veritas
No
6:00 / 5:00
4
Phaedra
Equus bellator apex
Yes
5:30 / 5:00
5
Avion
Avis praeda
No
5:30 / 5:30
6
Barba
Belua maximus
No
3:30 / 6:30
7
Hydrus
Draco marinus
No
12:00 / 8:00
8
Kuromori
Parietinae umbra
No
8:00 / 7:30
9
Basaran
Nimbus recanto
Yes
7:30 / 5:30
10
Dirge
Harena tigris
Yes
6:00 / 5:00
11
Celosia
Ignis excubitor
No
5:30 / 5:30
12
Pelagia
Permagnus pistrix
No
9:30 / 10:00
13
Phalanx
Aeris velivolus
Yes
12:00 / 13:00
14
Cenobia
Clades candor
No
9:00 / 9:00
15
Argus
Praesidium vigilo
No
11:00 / 11:30
16
Malus
Grandis supernus
No
9:30 / 13:00
* Denotes whether or not Agro can participate in the fight.
Appearance
All colossi have the appearance of gargantuan statues come to life. Though no two are exactly alike, most appear to be made out of stone. Sometimes this stone is amorphous or even cut like the stones of a building, giving the colossus the look of architecture. Some colossi are so massive that green, leafy plants have begun growing on their bodies. Most colossi are (partially) based on animals and creatures.
Magic Sigils
Main article: Magic Sigil
All colossi have magic sigils signified by a dim blue-green or yellow glow. They come in two types; the major and the minor sigil.
The major sigil, a glowing pattern of light similar to the design on Wander's tabard, is the used to slay the colossus. Striking these points does great damage to a colossus and are the only way of mortally wounding them. Some sigils will vanish after a certain amount of damage has been done, forcing Wander to find another.
The minor sigil appears as a crack in the colossus's skin. Striking this does only minor damage, but is often necessary to reach the major sigil.
"Blood"
Colossi have a black, ichorous blood coursing through their bodies. Whenever damage is done to a colossus, this black blood will gush from the wound, creating a black mist. Striking a major sigil on the body will cause a geyser of blood to eject, indicating the severity of damage done.
Eyes
The last key feature is their eyes. While no two colossi are alike, many have the same eyes: a glowing, pulsating iris surrounded by black with a deep pupil in the middle.
Whenever a colossus is passive, its eyes are normally a shade of sky blue. When enraged, the eyes glow a fierce orange. One exception is Pelagia, who has no eyes but instead has two tusks on its head that change colors.
Energy
Some colossi can generate powerful bursts of energy, and there are places on their bodies that mark the presence of this energy. These colossi can create strong, concussive blasts of brutal force. Others use the energy to further armor themselves against Wander's attempt to scale them and attack their weak spots. Touching these places can do damage to Wander. Colossi that use energy in battles include Hydrus, Kuromori, Basaran, Pelagia, and Malus.
Idols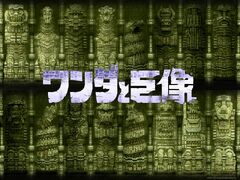 Sixteen gigantic idols line the east and west sides of the Shrine of Worship's main hall. The idols correspond to the colossi; when Wander defeats one, the idol explodes once he is returned to the Shrine (with one exception: Malus' statue implodes earlier, once Lord Emon's entourage reaches the shrine's main hall).
Even after a colossus's idol is destroyed, it is still available in Time Attack before you clear the game again.
The idols are arranged in a specific order. The southernmost one at the east side of the hall belongs to Valus, and Quadratus' idol faces it on the west side of the hall. Gaius' idol is next to Valus', and so on. The idols are all roughly the same size, despite the actual enormous range of sizes in the colossi (especially the relatively small Celosia and Cenobia).

The Black Tendrils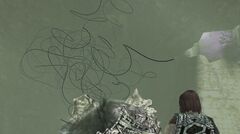 When Wander kills a colossus, several black tendrils escape from the fatal wound and into Wander. The tendrils cannot be outrun, and can even go straight through solid objects if necessary.
When Wander absorbs the tendrils, he blacks out and is later returned to the Shrine of Worship through mysterious means (his unconscious body begins to levitate, and he travels slowly through the air until he reaches the Shrine once more. In the game's finale, we see the first few seconds of this process.)
Dormin's essence accumulates inside Wander with each colossus felled, increasing his health, stamina, and physical strength. This is reflected in the amount of damage a single stab will do to sigils; this becomes very apparent with subsequent playthroughs. Four to five games in, Wander can kill a colossus that has only one major sigil with a single well-charged stab.

Reminiscence Mode
If you go back to a colossus's lair after you've killed one, you will notice that the corpse of the colossus has turned into a formation of rock and dirt loosely resembling its original form. If you press

next to (or on top of) any of the remains, you will pray before them and a prompt to enter "Reminiscence Mode" will pop up. Here, you can choose to fight the colossus again. If you do, the battle will be loaded up again, complete with a vignetted grainy old-film filter.
You are not timed in this mode, so this is not a substitute for Time Attack. Much like that mode, however, the battle will end if you go too far from the arena. Also if you defeat a colossus in reminiscence mode and you die afterwards, you will be teleported to the corpse of the colossus you defeated.
Pillars of Light
After defeating a colossus, a gigantic pillar of light will appear in the skies far above its corpse. These can be seen from every corner of the Forbidden Lands, and serve as a record of Wander's travels and deeds. These have been a part of the game from very early on in its development; even early screenshots clearly show a beam of light shooting in the sky, and the clouds swirling dramatically around it.
Their early inclusion in the game, and their profound appearance in general, has led to many theories about what they symbolize, and why it was so important to have them there. One theory is that they are only present in order to remind players about the location of a colossus's corpse if they wish to fight them in reminiscence mode.