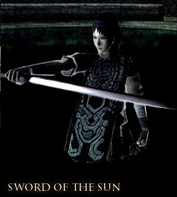 The
Sword of the Sun
is the first new sword available to the player, unlocked by defeating four
colossi
in
Time Attack
on
Hard Mode
. This sword has no advantage in terms of damage done to a colossus, but its ability to gather light is much greater that that of the 
Ancient Sword
and the
Queen's Sword
. Even in total darkness, the Sword of the Sun shines brightly.
Dormin says the following upon retrieving the item:
That is the "Sword of the Sun"...
It is able to gather light even in places sunlight cannot reach...
Ico
The Sword of the Sun is a reference to Ico, as many identical swords can be found scattered throughout the Queen's castle. Both swords share the same light brown hilt, with the assymetrical pommel and lack of a crossguard, and a blade with a slightly curved point.
Though the Sword of the Sun and the swords
Ico
uses are aesthetically identical, their abilities do dif
fer. In Ico the swords are merely weapons and have no other use other than defeating the
shadow creatures
and cutting ropes. The Sword of the Sun also has the ability to gather light, even in total darkness.
Interestingly, the first encounter with one of the swords in Ico is in the Eastern Arena. This is the area where Ico uses one of the two light reflector for the first time. Thus these swords also have a connection with light reflection, just like the Sword of the Sun.