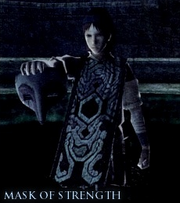 The Mask of Strength is an item that further increases the amount of damage done to a colossus. To receive it, one must defeat six colossi in Time Attack on normal difficulty. It stacks with the Cloak of Force, but the Mask of Power cannot be equipped at the same time.
Dormin says the following upon retrieving the item:
That is the "Mask of Strength"... By wearing it, thou shalt be able to inflict deeper wounds upon a colossus...
Trivia
The mask bears a striking resemblance to the mask one of Lord Emon's men wears.
Gallery


Ad blocker interference detected!
Wikia is a free-to-use site that makes money from advertising. We have a modified experience for viewers using ad blockers

Wikia is not accessible if you've made further modifications. Remove the custom ad blocker rule(s) and the page will load as expected.