"
One day, perhaps you will make atonement for what you've done.
"

–Lord Emon to Wander
Lord Emon is a supporting character in Shadow of the Colossus with ambiguous motives. He plays an important role at the end of the game, and can be considered both a pseudo-antagonist and a sympathetic character.
Story
Lord Emon is a shaman who narrates a vision in the introduction to Shadow of the Colossus, vaguely explaining the origin of the lands Wander has come to, emphasizing they are forbidden to enter. This narration and the image of his mask is the first time we meet Emon. He is portrayed as having extensive knowledge regarding the containment of Dormin, and the ability to use powerful magic.
Later in the game (after the twelfth colossus is defeated), he is shown in a cutscene with a small group of soldiers at his command, and is pursuing Wander to prevent the use of "the forbidden spell" - the ritual involving destroying the sixteen colossi which will resurrect Mono.
In the closing sequence of the game, he and his soldiers arrive in time to see the last colossus statue destroyed. Lord Emon then sees Mono lying on the altar and is seen speaking words over her, seemingly a chant, with his hand raised towards her when Wander arrives at the temple. After expressing shock at Wander's horned and shadowed appearance, and rebuking the creature, Emon declares Wander to be "possessed by the dead" and orders the accompanying soldiers to kill him. After the possession of Wander by Dormin, Emon and his contingent flee the Shrine of Worship, but not before Emon takes the sword and casts a spell that banishes the evil spirit from Wander, albeit likely only temporary.
Theories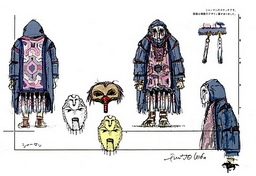 It has been speculated that there is a history between Lord Emon's religious sect and that of the spiritual Dormin. Among this speculation is the idea that there is or was some animosity between the two and that Emon's sect is in some way responsible for the imprisonment of Dormin in the idols and their colossi. Dormin said to Emon, "Thou severed Our body into sixteen segments for an eternity in order to seal away Our power. We, Dormin, have arisen anew". There is no doubt that Emon's predecessors sealed him and gave each colossi a part of him. Some believe that Emon was the previous owner of the sword Wander stole prior to the game's events. It has also been speculated that Emon caused Mono's death; he foresaw that she would cause the reawakening of Dormin and had her sacrificed because of this "cursed fate," thus enraging Wander and instigating a self-fulfilling prophecy.
Quotes
(opening narration) That place... began from the resonance of intersecting points... They are memories replaced by ens and naught and etched into stone. Blood, young sprouts, sky--and the one with the ability to control beings created from light... In that world, it is said that if one should wish it one can bring back the souls of the dead... But to trespass upon that land is strictly forbidden...
I don't believe this... So it was you after all. Have you any idea what you've done?! Not only did you steal the sword and trespass upon this cursed land, you used the forbidden spell as well...
(last spoken lines in the game) Poor ungodly soul... Now, no man shall ever trespass upon this place again. Should you be alive... If it's even possible to continue to exist in these sealed lands... one day, perhaps you will make atonement for what you've done.
Gallery


Ad blocker interference detected!
Wikia is a free-to-use site that makes money from advertising. We have a modified experience for viewers using ad blockers

Wikia is not accessible if you've made further modifications. Remove the custom ad blocker rule(s) and the page will load as expected.