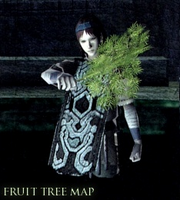 Received after defeating ten colossi in Normal Time Attack or six colossi in Hard Time Attack, the Fruit Tree Map allows Wander to see all of the fruit trees on a map. It is a smaller and flat version of a fruit tree. The trees are marked using a yellow fruit-like symbol. Trees growing in the Secret Garden aren't marked on the map.
Dormin says the following upon retrieving the item:
That is the "Fruit Tree Map"... By using it, thou shalt be able find the fruit trees throughout the world easier.
Like the Lizard Detection Stone, it isn't an item that is required to carry, rather equipped and activated on the map.
Note: all the fruit on a particular tree needs to be eaten for the mark to disappear from the map.


Ad blocker interference detected!
Wikia is a free-to-use site that makes money from advertising. We have a modified experience for viewers using ad blockers

Wikia is not accessible if you've made further modifications. Remove the custom ad blocker rule(s) and the page will load as expected.