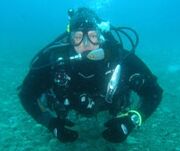 See also: Sulu Sea eel statue
Ed Guyler is an Australian professional diver and PADI-certified diving instructor.
Dive the Deep SCUBA
In 2002, Guyler created a business for diving trips called Dive the Deep SCUBA, along with two others ("Carlos" and "Roy"). The company is based in Tacloban City in Leyte, a province of the Phillipines. The company's website specifically lists the address as being on Burgos Street, though they also acknowledge that they are "not easy to find".
"Ozzie"
The diving crew use a 31-foot-long dive boat nicknamed "Ozzie", which can fit up to a dozen divers at a time and is equipped with an onboard GPS navigation device, an emergency communication system, Nitrox, and, since 2004, a hyperbaric recompression chamber to treat decompression sickness.
Diving trip locations
According to the company's website, typical diving trips include the following regions:


Ad blocker interference detected!
Wikia is a free-to-use site that makes money from advertising. We have a modified experience for viewers using ad blockers

Wikia is not accessible if you've made further modifications. Remove the custom ad blocker rule(s) and the page will load as expected.