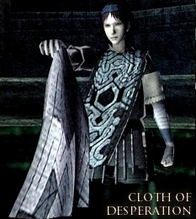 The
Cloth of Desperation
is essentially a parachute and it is gained after defeating fourteen
colossi
in
Hard
Time Attack
mode. While equipped, jump and press either R1 or circle to deploy it.
Dormin says the following upon retrieving the item:
That is the "Cloth of Desperation"...
Use it when thou hast fallen off a colossus and thou art in peril...
Use
This item is useful if knocked off of a tall colossus or to quickly jump down from high up, as it reduces fall speed and thus nullifies fall damage. While falling, Wander has very little control over the direction in which he falls when the Cloth of Desperation is in use, but it does have a slight forward motion. It can be equipped at the same time as the Shaman's Cloak.
Notes
Gallery


Ad blocker interference detected!
Wikia is a free-to-use site that makes money from advertising. We have a modified experience for viewers using ad blockers

Wikia is not accessible if you've made further modifications. Remove the custom ad blocker rule(s) and the page will load as expected.