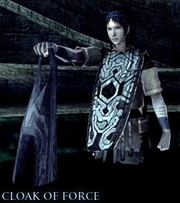 The
Cloak of Force
is an item unlocked by defeating four
colossi
in
Time Attack
on normal difficulty. If worn by
Wander
, it increases the amount of damage he deals with the
Ancient Sword
. The effect stacks with both the
Mask of Power
and the
Mask of Strength
.
Dormin says the following upon retrieving the item:
That is the "Cloak of Force"... By wearing it, thou shalt be able to inflict more grievous injuries upon a colossus...
Unlike Wander's regular cloak and the Shaman's Cloak, the Cloak of Force does not feature the major sigil symbol. The Cloak is identical to the cloaks that two of Lord Emon's men wear, that also lack the major sigil symbols.
Gallery