Cajutel sarl is a Guinea-Bissau company under Swiss ownership. Its major shareholder al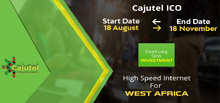 so owns DataCell ehf , which built and operated a crypto mining datacenter and assisted Wikileaks in credit card payments in 2010. Furthermore he started Icell ehf, a mobile operator in Iceland in 2007 and operated Emax a rural area wireless internet access network using 4G technology and Backbone ehf which operates a encrypted backbone network in multiple continents and is laying fiber.
The know how on how to operate a wireless network in harsh environments can be easily transplanted into other countries. In this project we are envisaging to build up a countrywide access network for Guinea-Bissau and with a future expansion to neighboring countries to allow the large public to be able to access the internet
CAJUTEL will be the fastest internet provider in the area for the public, outperforming the existing operators offering by a factor of 10x to 100x with an at least 30% cheaper price. This enables internet technologies not present in West Africa simply due to lack of bandwidth and too high prices. It makes it affordable for the general public to get access to the internet. That's why only less than 2% have access today. So there's 98% available to be grabbed by us.
Start Date : 18 Aug 17
End Date : 18 Nov 17
Ad blocker interference detected!
Wikia is a free-to-use site that makes money from advertising. We have a modified experience for viewers using ad blockers

Wikia is not accessible if you've made further modifications. Remove the custom ad blocker rule(s) and the page will load as expected.